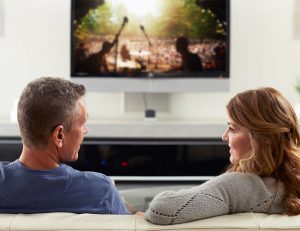 Brings back the pleasure of watching TV
This future-proof plug'n'play streamer streams clear stereo sound from the TV, stereo, computer or other audio devices directly to your customers' hearing aids. Connecting to any analog or digital audio source the TV Streamer 2 brings back the pleasure of watching TV while still being able to participate in conversations.
The ultimate TV experience
Interton TV Streamer 2 brings back the pleasure of watching your favorite TV shows with family and friends. Stream superb stereo sound directly to your wireless hearing aids from your TV or any other audio source. With the TV Streamer 2 you can balance the sound from your TV and your surroundings. So you can enjoy watching TV and still take part in conversations around you.
No adapters around your neck
Interton Wireless Accessories use a true wireless connection that connects to your wireless hearing
aids without the need for additional adapters around your neck. With the wireless accessories you'll have the opportunity to hear everything clearly even in difficult listening situations.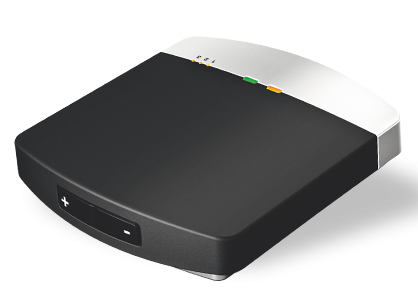 MORE DETAILS ABOUT TV Streamer 2
ADVANTAGES
+ Stream stereo sound from TV or any other audiosource to both hearing aids
+ Streams sound at least 7 meters with clear line ofsight
+ Re-connects automatically if you leave the roomand come back within 5 minutes
+ Works with any digital or analog TV or audiosource
+ Easy setup – just pair and forget
+ Take it with you to enjoy TV anywhere
TECHNICAL SPECIFICATIONS:
+ Dimensions : 91 x 83 x 47 mm
+ Weight : 93gm
+ Power supply : External wall adaptor, 5 V DC
+ Power connection : Mini USB
+ Audio Interface – Analogue: Stereo mini-jack L/R RCA/mini-jack/Scart
                             – Digital: Optical (Toslink) / Coaxial
+ Supported Digital Audio formats – Stereo PCM : Sample rate: Up to 192 kHz
                                                                              : Sample resolution: Up to 32 bit
                                                       – Dolby Digital : Channels: Max 5.1
                                                                              : Bitrate: 32 kbs to 640 kbs
                                                                              : Sample rate: 32, 44.1 and 48 kHz
+ Wireless Connections : Multiple hearing instruments per TV Streamer 2.
                                       : Up to 3 streamers per binaural set of hearing instruments.
+ Audio Streaming Range : Up to 7 meters.
COMPATIBLE HEARING AIDS
Phone Clip 2 is compatible with the following hearing aids:
+ INTERTON CENTRO 6
+ INTERTON CENTRO 4
+ RESOUND LINX2
+ RESOUND ENZO2
+ RESOUND UP SMART
+ BELTONE LEGEND
+ BELTONE ALLY
+ BELTONE BOOST PLUS
+ CHOCLEAR NUCLEUS 6 
+ CHOCLEAR BAHA 5